As Jan comes to a close..let Bloody February begin!! Here are some great scans and an interview with Ian below.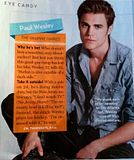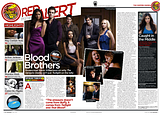 Magazine Scans courtesy of
VDSource
and
Only Paul Wesley
Courtesy of Bob Mahoney
Double Dose of Weird for Ian Somerhalder

"It's such a great moment in time for me," Somerhalder said, speaking by telephone from the "Vampire Diaries" set in Atlanta. "It's very cool. I'm very lucky, very grateful. As far as 'Vampire Diaries' and 'Lost,' there's such great storytelling going on on both shows, and they're such amazing experiences. I'm just really happy to be a part of them."
"I got there and I think I was on the ground for 27 hours. In that time I got to see two of my super-close friends, Matthew Fox and Josh Holloway, who are like brothers, and their families, got to go to a couple of my favorite restaurants, shot what I needed to shoot, and still (went) snorkeling at my favorite spot."

How much of Boone will we see? Somerhalder may film as many as three episodes, but he isn't revealing whether Boone will turn up in the flesh or as a ghost, in the present, in the past or both.


Meanwhile as the season progresses on "The Vampire Diaries," viewers will watch as Damon spends more time with Elena and as he pursues what it is he's ultimately after. Fans can also expect to see scenes set in the 1860s that will feature Damon and Katherine (Dobrev), the captivating vampire who decades ago turned the Salvatores into bloodsuckers.

Full Article Here